Victoria and Alfred Waterfront in Cape Town, South Africa is going to host the inaugural Bitcoin African Conference on April 16 and 17, 2015. The two-day event will bring together merchants, investors, venture capitalists, start-ups and Bitcoin enthusiasts who are all looking to move Bitcoin forward in Africa.
Also Read:  Bitcoin – Empowering Rural Economy's and Protecting the Elephants in Africa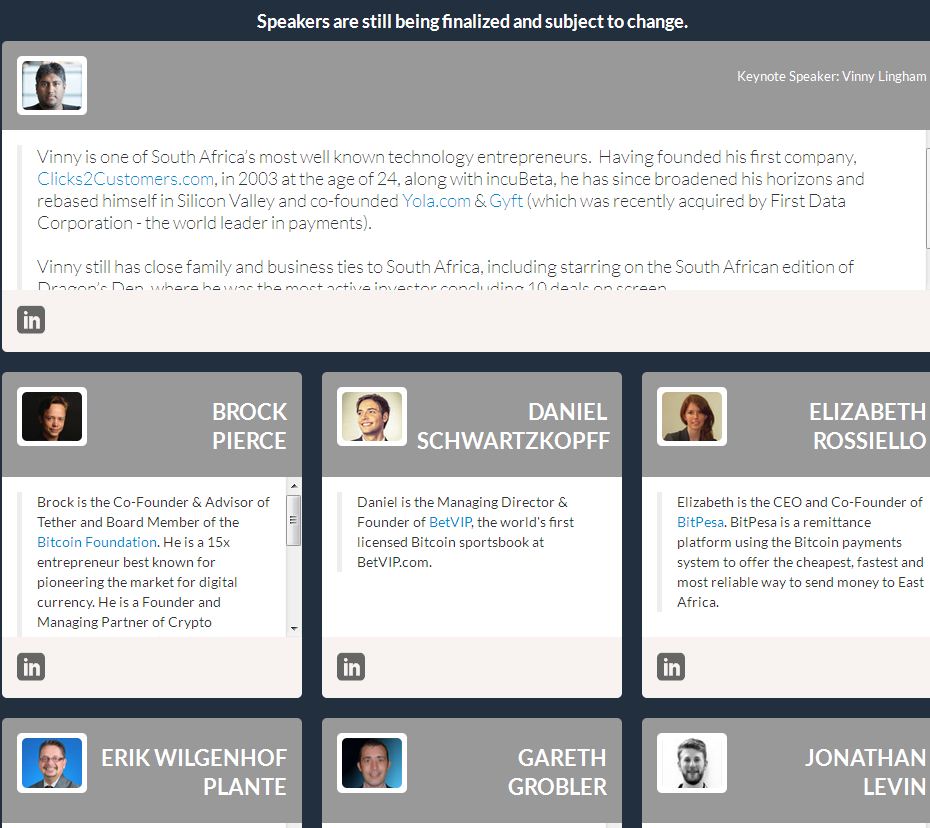 The organizers of the Bitcoin Africa Conference plan to address many of the issues surrounding Bitcoin, as well as the potential that Bitcoin offers individuals and businesses alike. The conference aims to provide an in-depth understanding of the following:
What is Bitcoin?
The block chain and Bitcoin mining
Merchant adoption
Bitcoin in Africa
The financial, legal and regulatory implications of Bitcoin
Bitcoin investment
The future of Bitcoin
Finalization of Speakers
The organizer of the event, "Bitcoin Events Pty Ltd.," has completed the necessary work to finalize the roster of speakers speakers. The names of speakers include founder of South African Bitcoin exchange ICE3X, Gareth Grobelar; Jonathan Smit, founder of the first payments processing service in South Africa to accept Bitcoin, PayFast; co-founder and chief executive officer (CEO) of Bitcoin remittance platform BitPesa; and Elizabeth Rossiello. Vinny Lingham will be the keynote speaker.
Elizabeth Rossiello trusts the potential Bitcoin has when she says it is a low-cost, open-source technology that gives start-ups and entrepreneurs immediate access to robust, scalable, and transactional software. She admits that BitPesa would have never been able to grow as fast as were it not for the Bitcoin technology. It is this cutting edge that has so thoroughly connected businesses and trading desks around the world.
Gareth Grobelar also shares similar views; he says that Africa is full of opportunities for entrepreneurs who can provide solutions to problems where transparency and decentralized trust is necessary. According to Grobelar, the blockchain affords companies the opportunity to build decentralized management systems guaranteeing fairness and equality throughout the supply chain. This can empower everyone to achieve better futures and afford the enjoyment of the resources Africa provides.
Why is the Bitcoin Africa Conference Important?
In a recent report,  BBC said that more than 30 million Africans live around the world as migrant workers and have sent almost $40bn (£26.5bn) home in 2014. Most of the east African countries are dependent on remittances. The report claims that the average per migrant is almost $1,200, representing 5% of GDP on a country-by-country average.
The major issue migrant workers face is the higher cost of transferring money to their relatives in Africa. According to the Overseas Development Institute, Africans in the Diaspora pay an average of 12.3% to money transmitters to send $200. The traditional payment processors Western Union and MoneyGram control more than half of the remittance market in most Sub-Saharan African countries. Due to lack of competition, these companies have never been forced to reduce the fees; instead, customers are forced to pay hefty fees.
Bitcoin Could Ease the Pain of Africa's Migrant Workers
Elizabeth Rossiello says that credit cards are only available to less than 3% of the population in sub-Saharan Africa, and PayPal is either blocked or is very expensive to use in many countries. Similarly, bank transfers and remittance corridors in Africa are two to three times higher than the price charged in other areas. Rossiello argues that Bitcoin provides the solution to these problems, stating that BitPesa allows workers overseas to send money home to Kenya and Ghana for a flat fee of 3%.
Tickets for the Bitcoin Africa Conference are available here. The organizers are accepting Bitcoin as well for tickets.
Will you attend the Bitcoin Africa Conference? Let us know in the Comments below!
Image source: bitcoinconference.co.za
The post Cape Town to Host Inaugural Bitcoin Africa Conference appeared first on Bitcoinist.com.